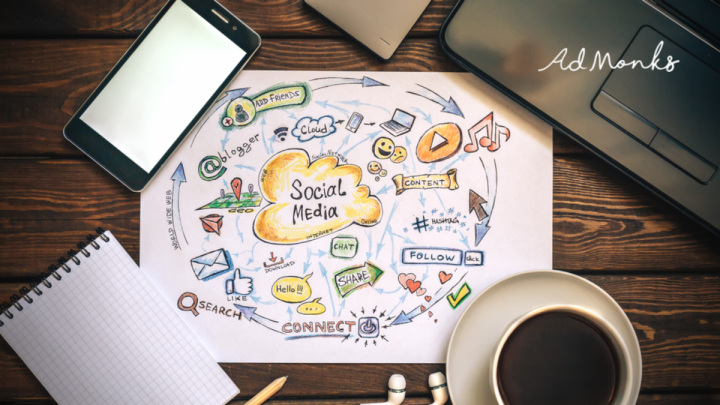 Hello guys, hope you all are doing great in your lives. AdMonks- Social media marketing Dubai is back with a new read.
Today in this read we'll help you explore the advantages of social media marketing for your business.
We have previously posted a blog on "How to Create a powerful brand identity." And if you are looking for the best social media marketing Dubai? This read will help you get the answer to that as well.
Imagine spending up to 6 hours a week boosting your business's recognition, traffic, and sales.
That's right! 90% of marketers claim that social media has created a lot of exposure for their company, and this is just one of its many advantages of social media marketing.
Social networks are now a significant part of all marketing strategies, and the benefits of using social media are enormous, so anyone who does not implement this low-cost resource will miss out on an extraordinary marketing opportunity.
So, let's get started to explore the advantages in detail-
Increases brand awareness
Social media is one of the most cost-effective digital marketing techniques used to syndicate content and improve the visibility of your business.
Implementing a social media strategy will greatly increase your brand recognition as you engage with a wider audience of customers.
To get started, build social media profiles for your business and start communicating with others. Get employees, business partners and sponsors to "like" and "share" your page.
Engaging people with your content will increase brand awareness and increase your reputation as a business.
Increase in the inbound Traffic
If you're not marketing your business on social media, your inbound traffic stays limited.
Without using social media as part of your marketing strategy, you will have more difficulty approaching anyone outside your loyal customer circle.
Every social media profile you add to your marketing mix is a gateway to your website, and every piece of content you post is an extra possibility to gain a new customer.
Social media is a melting pot of different types of people with different backgrounds and behaviors.
Improved search engine rankings
Posting on social media may get some site traffic for your business, but it takes more effort than that to see significant success. Search engine optimization is very important for getting high page rankings and getting traffic to your business website.
Although social media does not directly increase search engine rankings, the social media examiner says that more than 58% of marketers who use social media for a year or more still see grown search engine rankings.
With increased visibility, you get more opportunities for your business transformation.
Each blog post, image, video, and comment can lead visitors to your company's website and increase traffic.
Social media marketing allows your business to produce a positive impact through the humanization factor.
When brands become interactive by sharing content, commenting, and posting statuses on social media, it makes a brand personality.
Better Customer Satisfaction
Social media is a communication and networking platform. Creating a voice for your business through these platforms is essential in humanizing your company.
When you post comments on your pages, users appreciate knowing that they will receive a personalized response instead of an automatic message.
Being able to accept every comment shows that you care about the needs of your visitors and provide the best experience.
It's clear that social media marketing has its advantages, so if your business does not already have relevant profiles, create them!
Fill in your business information and post some attractive content to start gaining followers.
AdMonks UAE has become the best social media marketing Dubai over a period of time. Choose AdMonks we're the best for you.