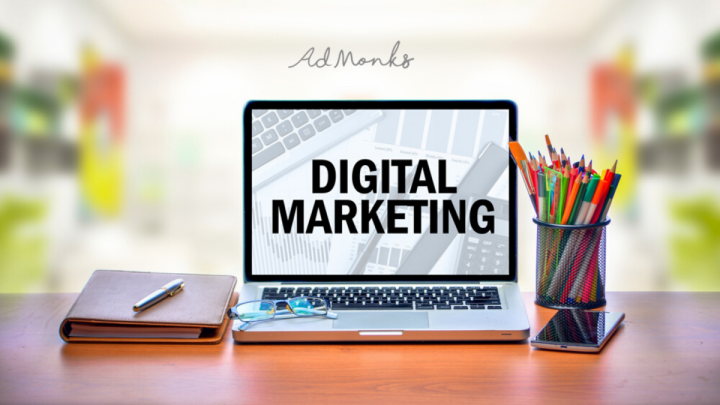 Over the past decade, digital marketing has seen a large boom, with everyone focusing on marketing their products through digital channels. No matter, whether you are a small business or a big business, digital marketing can help your business grow significantly. Because of its effectiveness, choosing digital marketing for your business can be a valuable way. There are many benefits that digital marketing has to offer. If you are wondering how digital marketing can help your business, Then please get in touch with us AdMonks Advertising LLC – the best Digital Marketing services. We are the top digital marketing agency in UAE.
How Digital Marketing is Beneficial For Small Businesses?
Whenever you start a small business, its first goal is to get customers. To do this, small businesses typically rely on traditional marketing channels such as print ads, newspaper, and magazine ads, which do not work in today's digitized world. 
According to Statista, the average person spends more than 136 minutes a day on social networking sites. Since most of our customers are available online, don't target them online through digital media channels. 
Most small businesses think they don't have the resources to compete online. Many of them cling to traditional channels that are not the right approach. You can even start digital marketing within a small budget.
ADVANTAGES OF DIGITAL MARKETING FOR YOUR BUSINESS
Marketing is an activity that involves trying to convince customers to buy a product or subscribe to a service. Since no business can survive without effective marketing and publicity, marketing is one of the key activities that every business needs to partner with.
Digital marketing is any action taken by any electronic media for the promotion of goods and services. It is primarily an Internet-based activity aimed at selling goods or providing services.
The world is in a digital age, and millions of people are roaming around on digital platforms. Businesses are becoming more aware of this fact and therefore increasing the popularity of these platforms to promote their goods and services. Marketing is about connecting with the right customers at the right time, and if your customers are online, that's where you should go.
Regardless of your business type, whether it's an app development company or a service provider, you can still benefit greatly from subscribing to digital marketing services. Their advantages are much greater than traditional marketing channels. Listed below are ten of them:
Low cost
Huge return on investment
Easy to measure
Easy to adjust
Brand development
Easy to share
Precise targeting
Global
Segmentation
Greater engagement
Need help in putting together a marketing benefit that meets the trends of the future? Then reach out to AdMonks Advertising LLC to offer you the best digital marketing agency in UAE and let us help you get your business to the forefront of your target market.