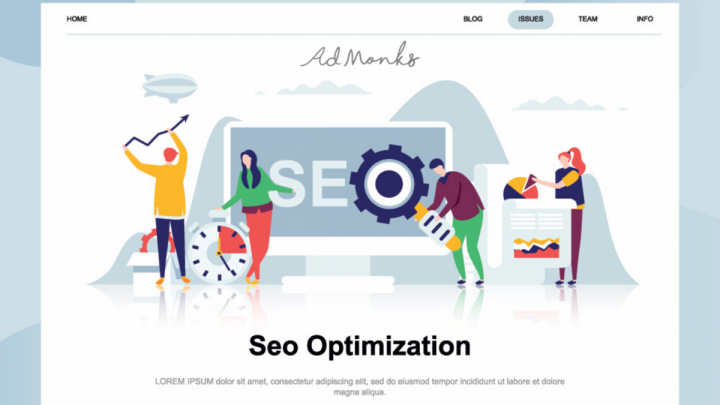 AdMonks Advertising LLC stands as the No. #1 digital marketing agency in UAE offering the finest SEO service Dubai.
Today in this read, we've decided to help you with some of the tips that one should follow while selecting a digital marketing company with SEO services.
Many of our readers from all around the world but mostly from Dubai are asking one single question-
How to find their perfect SEO companion for their website?
Yes, it's a serious concern that most us have and face. The no. of Digital marketing or SEO companies are increasing day by day & it's almost impossible to find the most genuine one's among them.
So, this read will help you understand how to choose the best & the most ethical SEO company for you.
Let's get started with our topic.
We all know that SEO is not an overnight process SEO is a slow process that needs to be conducted by the best set of professionals & so here are few things that you need to pay attention for when selecting an SEO agency for you.
Here's in this read we'll share the top 3 things that you should pay attention when finalising your digital partner.
The no. of years of experience – Yes, it's the fist & the foremost thing that you need to look.
Why years of experience matters in SEO?
The whole digital marketing & the trends involved in it keeps on changing & so the field has high competition. And, that's when you need to look for the no's because if a company stands tall & strong for over the years it means they can be trust-worthy.
And, so always go for the SEO company with the maximum no. of industrial experience. But, this doesn't mean the startups or the new emerging companies are bad.
There are many new & emerging companies who're doing exceptional work out there in the market but the count of such companies is very less.
Also, one thing that we need to understand is that with the greater no. of years in an industry the better the knowledge about the mistakes that need to be committed or corrected.
So, we can say that when selecting an SEO agency or professional always see to it that the firm or the professional has an ample amount of industrial experience.
The no. of potential clients the company posses-
Wondering why we've mentioned as potential clients instead of just clients?
Well, not to worry we have a perfect reason for that as well.
Gaining a client in today's time is no big deal. If a company is willing to quote lesser than other firms. The company will possess more no. of clients.
But, owning potential clients is no easy. A company will only posses potential clients if their services are very much up to the mark & have done everything to make their clients reach the heights that they aim.
So, always do a study about the no. of potential clients a company posses.
Get feedback from their clients-
This is one of the most basic things that you can do when searching for a digital marketing or SEO company in any part of the world.
You can collect feedback in two types-
Feedback from the existing clients-
This will help you know about the satisfaction of their clients with the on-going process of the project.
Feedback from the old clients-
This will help you understand the reason why the clients have asked the firm to stop the process for their projects.
The above listed are some of the key things that you should keep in mind when finalising your digital companion.
And, for the residents of Dubai who're looking for a company offering the best SEO service Dubai, we have a shortcut for you.
Yes, we AdMonks Advertising LLC is one of the leading digital marketing company in Dubai offering the best SEO service Dubai.
And, yes we do satisfy the above criteria.
Want to know more about us?
Well, feel free to visit our website.
Or visit us personly here at –
AdMonks Advertising LLC
#105, Al Safa, Khalid Bin Waleed Street,
Bur Dubai Dubai – UAE
You can also write to us regarding your queries related to any digital marketing services here –
Or you can give us a ring to this no. – +971 4 2941920
When it comes to digital partner you always need the best. So, don't waster time to join hands with AdMonks Advertising LLC.