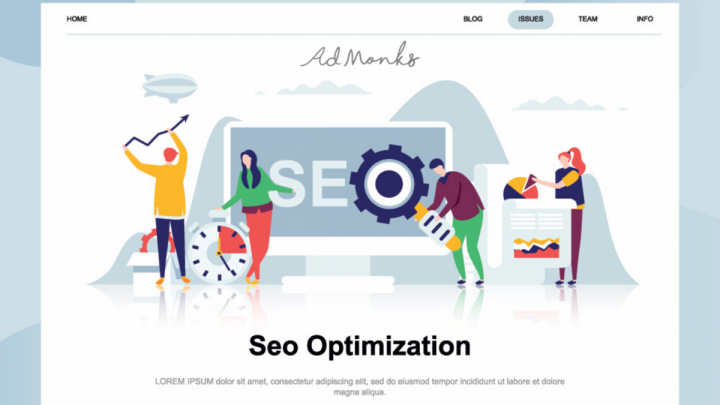 If you are a marketer or business owner, you may be told that you should use SEO (Search Engine Optimization) more than once or twice. Because, today, this is an essential part of any successful marketing strategy. But if you're not familiar with this strategy, you're not convinced it's worth your time or money.
Are you looking for the best SEO service in Dubai? AdMonks Dubai offers you the best in class SEO services at affordable prices. We will look at what is SEO in marketing, its role in marketing, and the key benefits it brings to your business.
Do You Know Exactly What SEO is in Marketing?
For beginners, SEO refers to search engine optimization and the process of optimizing a website to support users' rank in search results when searching for specific words and phrases.
If you're not sure why this matters, just think about how you commonly find the information you want during your everyday life.
Benefits of Search Engine Optimization (SEO)
Therefore – SEO is a great way to improve your ranking in search engine results.
This can have a huge impact on your company's most important goals, such as increasing your leads and sales.
If you're not convinced, keep reading to learn the biggest benefits of optimizing your site for search.
1. SEO targets quality traffic
One of the biggest benefits of SEO is that it is an inbound marketing strategy.
Unlike traditional "outbound" advertising channels that reach customers whether they want to hear from you or not, inbound methods focus on making it easier for your audience to find you when they need information.
Inbound marketing is customer-centric. This includes creating helpful resources and more easily accessing helpful information, rather than interrupting users when they watch TV or listen to the radio.
Then, when customers are willing to spend some time researching your industry or learning more about their options for a particular type of product, they can find your own.
2. You don't need to pay for ads in SEO
Google's organic ranking is based on its algorithm determining what results will be the best for any query.
Once you have created a page that the search engine is deemed worthy of directing its users, it means that you can continue to draw traffic to your site for months (or even years) after you publish it.
Of course, investing in researching and writing high-quality content requires an investment. If you decide to hire a digital marketing agency for you then you can choose to make that investment yourself or in the form of cash.
But once you make that initial investment, there's no cost to continue attracting traffic to your content.
Depending on the nature of the subject, you may need to update the page every few months. If your competitors decide to target the same keyword, you need to add and improve it.
But when it comes, your valuable spot in the search results is free of charge.
This is a significant difference from PPC ads, which include the cost when a user clicks and visits a page.
3. SEO gets more clicks than PPC
Even though PPC ads are above organic rankings, 71.33% of searchers click on an organic result on the first page.
The most reasonable conclusion is that users trust Google's algorithm but it's hard to say why. They know which places the advertisers are paying for, and instead choose to visit the pages that the search engine determines the best.
But regardless of the logic behind it, the fact is that most of the clicks for any search go to an organic result.
4. SEO helps PR
While SEO and PR may seem like completely different marketing strategies, you can use them together to maximize the results you see from them.
Getting links from reputable websites is a key component of any SEO strategy. One of the biggest parts of the job of an SEO professional is to know opportunities for placement or coverage on newsletters, industry blogs, and other relevant sites.
Considering a PR strategy revolves around getting prominent publications and influencers to talk about your company, this presents a great opportunity.
When you use link building research to find new ways to get your brand in front of customers, you will be more effective in delivering content to potential users and clients.
5. You can move ahead of the competition
Today, SEO is considered a key component of any marketing strategy. 61% of marketers say that improving their SEO and improving their online presence is a top priority.
With an SEO strategy of your own, you can move forward with them to stay competitive within your industry.
For the people searching for the best SEO service in Dubai, we have AdMonks for you. we assure you the best. You may find a number of companies that can provide SEO services. But, for long term SEO services you need the best center. That's why we are here. Visit our website and see for yourself on our works and also the clients to which we've delivered our services.
Join your hands with the best SEO service in Dubai – AdMonks Dubai.