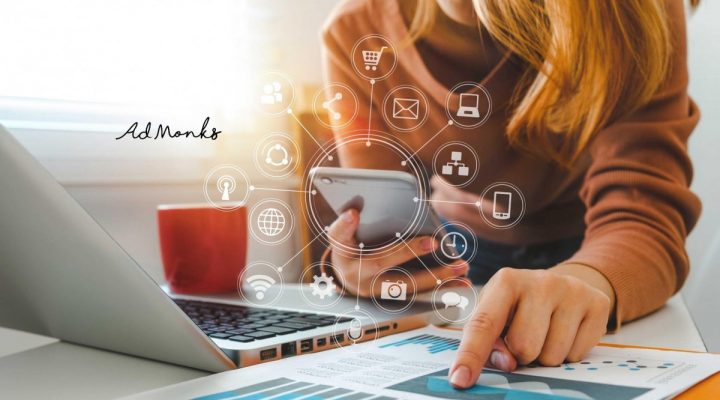 What is Social Media Marketing?
Social media marketing is the use of social media platforms and connects with your audience to build your brand, increase website traffic, and sales. This involves publishing great content on your social media platforms, analyzing your results, listening to and engaging your followers, and running social media advertisements.
Social media marketing is becoming the most popular for both practitioners and researchers. So this is the high time to connect with a firm whose expertise in social media marketing in Dubai and AdMonks Advertising LLC is a leading company in this category for many years.
The major social media platforms (at the moment) are Facebook, Instagram, LinkedIn, Twitter, YouTube, and Pinterest.
Latest trends in Social Media Marketing
Social media marketing is more entrepreneurs opt for addressing a huge audience on various social media platforms. Here we give some noteworthy trends to make the most from social media marketing. 2018 was a landmark year for both technologies and the social media domain.
Emerging technologies like IoT and AI have evolved to strengthen their positions in the corporate world.
The corporate world wants to leverage the benefits of the mighty social media platform through social media marketing techniques. And therefore, it will be interesting to make a list of top social media marketing trends to watch in 2019 and beyond.
And therefore, it will be interesting to make a list of top social media marketing trends to watch in 2019 and beyond. Being the company that always tries to implement the latest trends of Social media marketing in Dubai, these are some of the trends that we use for the best result.
Rise Of Augmented Reality (AR):–
Augmented reality remarkably shouts that 'Future is here'. After the first event hosted in Steve Jobs Theater, will announcing iPhone 8 and X. It says that both the devices have integrated with a new chip.
It will allow the phones to provide users with remarkable augmented reality experience.
The Increasing Popularity Of Instagram Stories:-
It's no obscure about the fastest growing social media platforms. Instagram is known by each and everyone, especially if one is the age group of 18 to 35. Yes, it is pretty famous for youth and Instagram has over 700 million users in less than 7 years. In a world that is changing on the rapid-speed, images will never end to drive social media engagement.
Continued Investment In Influencer Marketing:-
Talking about influencer marketing above, it is showing a lot of exposure and a trustworthy way of marketing. In the initial stage of influencer marketing, there were many questions appearing in this sector of marketing. But, in 2017, it exhibited and many giant companies like Hubspot, Rolex believed that it is successful.
, in 2017, it exhibited and many giant companies like Hubspot, Rolex believed that it is successful.
Expansion Of Live Streaming:-
The thing that was once just a lie or a gimmick has now become a mainstream of Social media. The live stream is up and rising the engagement and quality of a brand.
Some of the brands that are medium-sized have even encountered a million impressions by live streaming effective content on Facebook.
Facebook Spaces Goes Mainstream:-
Facebook is not just a social media giant with super social powers like live streaming, Instagram assembled and the largest audience in the world. It has also been working on a project known as Facebook Spaces.
It's designed that allows friends on Facebook to connect with each other in a VR space. It also owns Oculus, a VR hardware, and software company. It's no surprise that Facebook is developing an out of the box technology.
Personalization Will Be The Norm:-
Personalization or personalized customer experience can build and retain a relationship with customers. Personalized marketing, you can enhance the convenience of your customers.
Customers can opt for purchasing a suggested product if they are happy with the personalized notification from their favorite shop.
Micro-Influencers Will On The Rise:-
These days, Twitter, Instagram, and YouTube have hundreds of thousands of influencers who have millions of followers. Every post, tweet, or comment from them is seen by many people across the world. But, with growing popularity, they keep on increasing charges for their services.
There, the concept of micro-influencer marketing can lend a helping hand to entrepreneurs.
The micro-influencers have fewer followers as compared to the major social media influencers. They can still draw the attention of many people. It is because the micro-influencers are experts in their respective domains and their opinions matter among genuine followers.
Video Content Will Gain Ground:-
If a picture is worth a thousand words, the video is worth a million words, As the most popular tool, videos are all growing in 2019 as well. Experts believe that around 80% of what we consume online will soon convert into video content.
Experts believe that around 80% of what we consume online will soon convert into video content. We have now entered the age of live videos. Such videos are already popular on YouTube.
Soon, Instagram and Facebook will also follow suit. Instagram has brought Instagram Stories and this feature has become quite popular among Instagram users.
Forbes has defined Generation Z as people born between the mid to late 1990s. This tech-savvy generation covers almost 25% of the US population. They will start jobs in the near future, businesses will start targeting them. Some marketers have already started addressing them.
For example, readymade cloth manufacturers bring unique styles in high-end clothes to attract Generation Z.
User-Generated Content Will Be In Focus:-
Last but not least. The user will remain in the center of a social media marketing campaign in years to come. Now, when we say the user-generated content, it is created either by the loyal customers or fans of businesses.
Such content can be generated in the form of photos, videos or even memes. The companies can be freely used such content for promoting their products.
Employee Advocacy Will Become A Competitive Edge
Employee advocacy platforms boost the staff's social media confidence. It provides an easy, time-saving and risk-free way to share company content on social media. Putting your staff at the center of your online initiatives makes them feel valued.
As well as strengthens the relationship with the company. It helps the companies innovate their digital strategy easily and cost-effectively.
Private Social Messaging Will Grow Rapidly
Private messaging over social media sites are more like a huge trend. It's growing day by day dramatically over the next year. Facebook Messenger is a great example of that already has more than a billion active monthly users.
This is also getting a place into social media tactics. It enables deeper and two-way conversations online between the individuals or organizations to individuals.
Apart, Artificial Intelligence (AI) and Chatbots will provide brands to offer modified and better shopping experiences on messaging platforms such as Messenger including Whatsapp and Kik.
All said and done, you are the ultimate authority to choose your partner to go further with your social media marketing to add a new dimension to your business. So it is highly recommended to choose an organization wisely such as AdMonks Advertising LLC- the leading agency that does Social media marketing in Dubai. Visit our website for more!!