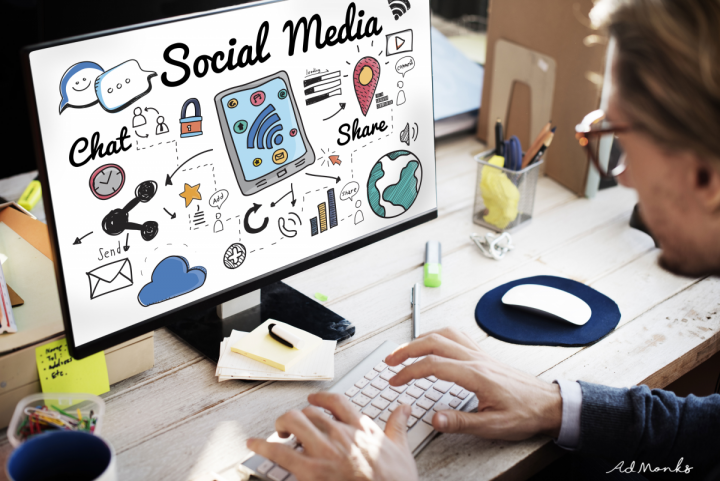 Social media has now become synonymous with digital marketing, going hand-in-hand with the most if not all digital campaigns. However, social media is far from static and what working into a few months ago may not get you the same good results now. and if you are looking for better SMM Services. we – Admonks LLC – Leading Social media marketing Dubai
Habits change, platform evolves, and new platforms come into existence. All of this influences how people use and react to social media marketing, as well as how marketers are able to reach their audiences.
It's more important than ever before for marketers to understand and stay ahead of the curve when it comes to social media.
Doing so ensures you have the right tools at your disposal, an up-to-date strategy, and the required skills to make the most of social media.
And therefore, it will be interesting to make a list of top social media marketing trends to watch in 2019 and beyond.
Being the company that always try to implement the latest trends of Social media marketing in Dubai, these are some of the trends that we use for the best result.
The digital detox
There are now 3.484 billion social media users across the globe, which is 9% increases compared to last year. This equates to 45% of the world's population is on social media. It also means the social media adoption is actually beaten the previous estimate, which is suggested that an estimated 2.82 billion would be using social media in 2019.
While this suggests that brands have the opportunity to reach larger audiences than ever before, a new trend is affecting that audience base.
More people are now choosing to "detox" from social media, deleting apps and profiles in order to step away from it. This is more than just the usual changes we see in terms of people choosing to use one platform less in favor of another such as Facebook seeing users decline but Instagram attracting more this trend is seeing people take a permanent or temporary break from all social media.
Building social media communities
A big part of meaningful and valuable experiences on social media is the way that brands engage with their audience. By sharing posts to targeted audience, you are doing your social media presence.
You also need to encourage and cultivate interactions that are more than a simple like or share.
There are a lot of brands out there who seemingly have large social media followings and yet, when you look more closely at individual posts, their engagement level is almost non-existent.
Those brands that are seeing more engagement from their followers are doing so by building a community around their content.
Social media influencers and word-of-mouth marketing
One benefit of building social media communities is the fact that help with word of mouth marketing, which is another big social media marketing trends for 2020.
Communities allow you to engage with a nano or micro-influencers who are already advocates of your brand in order to get them to share honest experiences and views of your services or products.
We all know that influencers have been around for a while and they have now become an expected part of the social media experience. They can offer great benefits for brands, including relatively high-earned-media values, especially now that Instagram usages are continuing to grow at an elevated rate.
For a better Social Media Marketing Services we, Admonks- The Leading Social media marketing UAE offer you the best SMM services. 
The rise of alternative platforms
Facebook, Instagram, and Twitter tend to be the core platforms used by B2C brands, with LinkedIn also being vital for B2B companies. However, These many users are growing fatigued with these core platforms while brands have to fight harder than ever before to achieve a good level of organic reach and engagement. 
While Twitter has seen growth so far this year, its active user numbers have declined from it is s all-time 2017 high. Similarly, Facebook has seen a huge drop in users, especially younger users over the last two years, and with younger audiences spend time on other platforms.
Combined with the increased pay to play format of social media channels, this means that brands aren't seeing the results on these platforms that they previously did.
Social media as customer service
Customer service is always going to be a vital aspect of providing a good customer experience, but in the digital age, the customer service you offer is a lot more visible to everyone online.
As well as online customer reviews, customer complaints and issues are easier to find than ever before due to the fact that a lot of them are shared on social media.
Over a quarter (28%) of consumers have used social media to communicate with a company in the last year, a trend that is likely to increase due to the fact that more than 30% said it is a convenient contact method and around 23% believe it's a good way to get 24-hour services.
Telling Stories on social
Since the launch of Snapchat, other social media platforms have rushed to add the Stories format to their offering. The result has been huge growth in the usage of this format for Instagram in particular, which as of January 2019, boasts 500 million daily active Stories users across the globe.
Stories offer a different experience to feed based sharing due to the fact that they are visual and designed to be both created and consumed at the moment, rather than shared to a feed that will remain visible.
There is a lot of room for experimentation, tongue in cheek posts and fun, which makes Stories highly engaging, and it is one of the likely reasons as to why Stories had a growth rate that was 15x the rate of Feeds in 2017.
Come join your hands with Admonks – The leading Social media marketing Dubai for a better experience in the Social media marketing UAE.