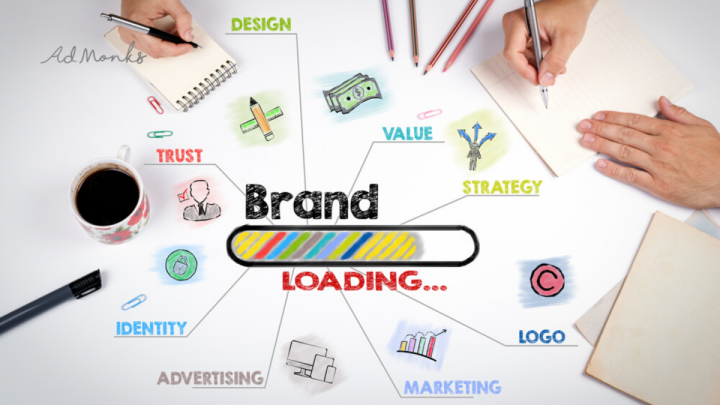 A strong brand gives your business a boost, builds credibility, and yes – branding is no doubt a game-changer. AdMonks, The best branding agency Dubai, Before we jump into the expert steps to follow branding in 2020, let's take a look at what branding means in this era.
What Is Branding And Why Is It Important For Your Business?
By definition, branding is a marketing practice in which a company produces a name, logo, or design that can be easily known as belonging to the company. It helps to identify a product and distinguish it from other products and services.
Branding is important because it not only creates a memorable impression on consumers but also allows your customers and clients to know what to expect from your company. This is a way to differentiate yourself from competitors and showcase what you have to offer.
Your brand is built on a true representation of who you are and how you want to be as a business.
Why Is Branding Important?
Branding is important for a business because it affects your company as a whole. Branding can change how people view your brand, which can lead to new business and increase brand awareness.
Branding Gets Recognition
One of the most important reasons why branding is important to a business is how a company is recognized and made known to its consumers.
The logo is the most important part of branding, especially when it comes to this aspect, which is the face of the company.
Increases Business Value
Branding is important when trying to create a business of the future. And a completely established brand can increase the value of a business by providing more profit to the company.
This makes it a more attractive investment chance because of its solid position in the market.
Generates New Customers
A good brand will have no problem in increasing the referral business. Effective branding means that customers have a good impression of the company.
And they are more likely to do business with you because of the knowledge and opinion of using a name they can trust.
Once a brand is well established, word of mouth can be the most powerful and effective advertising technology for the company.
Benefits of branding for your business
Due to the high use of social media and promotional and marketing activities such as digital marketing, the consumer today is faced with various options and choices, and every brand in the market is trying to build its presence known to the minds of its consumers and its offerings.
If the customer buys the product or service with the brand and experiences great customer service, he will come back for a repeat purchase.
At the same customer sees the brand's branding and promotional campaigns when they are signing up for signage, print ads, television ads, social media, or digital channels; He remembers his relationship with the brand and feels also happy and confident about his purchasing decision.
There are various brands in the market offering related products and services to the same set of customers and the target market, but there are unique factors that differentiate one product from another.
To make consumers aware of this product differentiation factor is the function of transforming the brand's products through branding products, various campaigns, and tools into features that set them apart from others in the market.
Introduction of new products and services
By using the right branding measures, the goals of customer loyalty and the high sales and profitability of the brand with a particular product or service, the brand has a strong heritage and can introduce new products and services.
Quality offers and excellent customer service levels. And users have a lot of trust and confidence in the brand and will be involved in buying new products or services that have been introduced.
The brand can tap into a new set of target audiences and untouched market locations.
Latest trends involved in brands
Personalize your brand
Use chatbots and other immersive technology
Pay attention to online communities
Increase brand loyalty with creative customer experiences
Have a social conscience
Think about mobile-first
Use Influencer marketing
Go for native display advertising
Create valuable content
While looking for the best branding agency Dubai. We are always ready to help you with our branding services. Be a brand with the best branding agency Dubai – Admonks.